Four-year-old Olympia has been a shining star in the lives of Serena Williams and Alexis Ohanian. Like her mother, Olympia never shies away from the camera, often displaying her adorable moments on social media. Moreover, following in her mother's footsteps, she also trains in tennis, taking lessons from her champion mother.
ADVERTISEMENT
Article continues below this ad
While Serena is away from tennis due to a hamstring injury, she has ensured to spend quality time with her daughter. Although she has had a hectic schedule with off-court events, she has managed her family time aptly.
ADVERTISEMENT
Article continues below this ad
WATCH THIS STORY: Will Smith Shows How King Richard Cast Trained Like Serena and Venus Williams
Recently, Olympia's father, Alexis Ohanian, shared a wonderful picture of his daughter.
Serena Williams' daughter Olympia's adorable picture
The Reddit co-founder took to Twitter to share a picture of Olympia posing like a superstar. Further, he went on to say, "So this is my life now. Of course @serenawilliams took this photo." 
Earlier, during his Seven Seven Six product meeting, Alexis spotted her daughter laying into the heavy bag. Sharing the video, he said, "That feeling when your daughter starts laying into the heavy bag during your @sevensevensix product meeting and you couldn't be more proud." 
ADVERTISEMENT
Article continues below this ad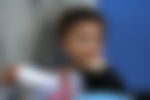 Recently, Serena has been busy managing her business ventures and representing her movie, King Richard at the award functions. Earlier this year, the movie won massive honor at the Oscars. Will Smith, who played the lead role of her father, Richard Williams, won the Oscar for Best Actor. Subsequently, he had kind words for Serena's father and also thanked Serena and Venus Williams for giving him an opportunity to play their on-screen father.
DIVE DEEPER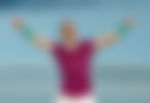 ADVERTISEMENT
Article continues below this ad
Coming to tennis, Serena last played a competitive match at Wimbledon in June 2021. Subsequently, she has been struggling with a hamstring injury. However, Serena is known to be a fighter and is hoping to make a return to tennis later this season.
Can Serena have one last laugh and win another Grand Slam title? Let us know your views in the comments below.




Read More:'This Is My Life Now' – Serena Williams' Husband Alexis Ohanian Shares an