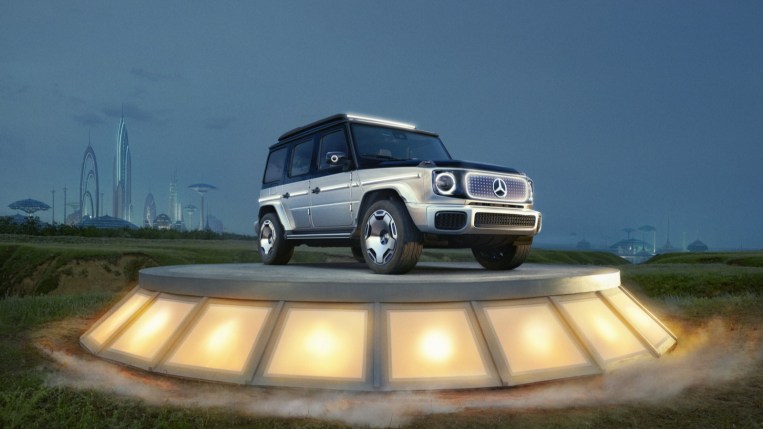 This week, Mercedes-Benz has unveiled a handful of electric vehicles (EVs), including a battery-powered version of its iconic E-Class sedan.  They have all been production cars, available for purchase within the next year.
And here we are, bothering to tell you about a concept car as well.
Why bother? Because this one signals something important about the future of the world's oldest automaker.
A Timeless Vehicle Meets the Future
The G-Class, sometimes called the G-Wagon, is the other Mercedes icon. It's the off-roader. The one they didn't even import to the U.S. at first because Mercedes executives thought its rough character would interfere with Americans' image of Mercedes as a luxury marque.
The Geländewagen (that's "terrain vehicle") is a boxy, ladder-frame, live-rear-axle off-road beast first developed as a military vehicle. Designers later draped it in supple leather as it evolved into a status symbol and a go-anywhere vehicle that has kept its classic looks since its introduction but gained a more luxurious cabin with each new iteration.
If Mercedes engineers could turn that into a convincing EV, that would be news.
Here is what they propose.
The Mercedes-Benz EQG is officially not a production car. Mercedes calls it a "near-production study."
Four Wheels, Four Motors
It uses some old-school know-how to get its driver out of any situation. It rides on a ladder frame, for instance, like a pickup truck. But it marries that classic engineering with technology no other Mercedes electric has used to date. Namely, there's an electric motor for each wheel, rather than just one or two mounted to axles. That should give it extraordinary off-road capability, as it could easily adjust the torque at each wheel to make the most of the available grip.
Mercedes has given no hint as to the range or power of the EQG. It retains that live rear axle. There's history here to honor.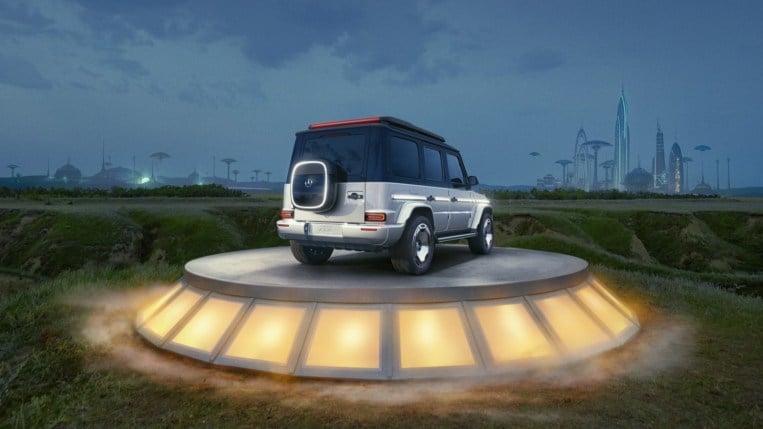 A Body That Honors its Legacy
That history is apparent in the bodywork. The EQG is unmistakably a G-Wagon, with the utilitarian, tall-greenhouse look that you expect. But it's made modern with extensive lighting elements. Simple round headlights are outlined in LED piping, as is the false grille. The rear-mounted box that looks like it hides the spare tire (it actually houses the charging cable) has its own LED strip. Even the roof rack is a lighting element – white up front, red in the back.
Mercedes hasn't given the press a glimpse inside the EQG. We don't know whether they've managed to produce a rugged-looking take on the huge display screen that is the focal point of other Mercedes EVs. But it's hard to imagine that the EQG isn't a preview of a production model, with Mercedes moving toward all-electric offerings in many markets.
Headed for Production?
Dr. Emmerich Schiller, Managing Director of Mercedes-Benz G GmbH and Head of the Off-Road Vehicle Product Division, tips the automaker's hand a bit.
"In its more than 40-year model history, the G-Class has always used the most modern and suitable drive technology at the time," he says. "Against the background of our 'Electric only' strategy, the electrification of this off-road legend is simply the logical next step – and an absolutely fascinating project. Our icon is and remains 'stronger than time' in every respect."


Read More:Mercedes Previews Electric G-Class with Concept Car | Kelley Blue Book