In this daily series, Newsweek explores the steps that led to the January 6 Capitol Riot.
At 5:30 a.m. on December 25, Christmas Day, a large mobile home detonated on a deserted stretch of 2nd Avenue North in downtown Nashville, Tennessee, nearly collapsing one building and damaging 41 others, shattering windows and sending shrapnel into the early morning street. Trees were knocked to the ground, and Second Avenue took on the charred look of a battleground.
Eight people were injured, including three bystanders who were hospitalized. Two Nashville police officers who had just arrived in the area after the RV broadcast warning messages also received minor injuries.
The message broadcast loudly was "This area must be evacuated now. If you can hear this message, evacuate now."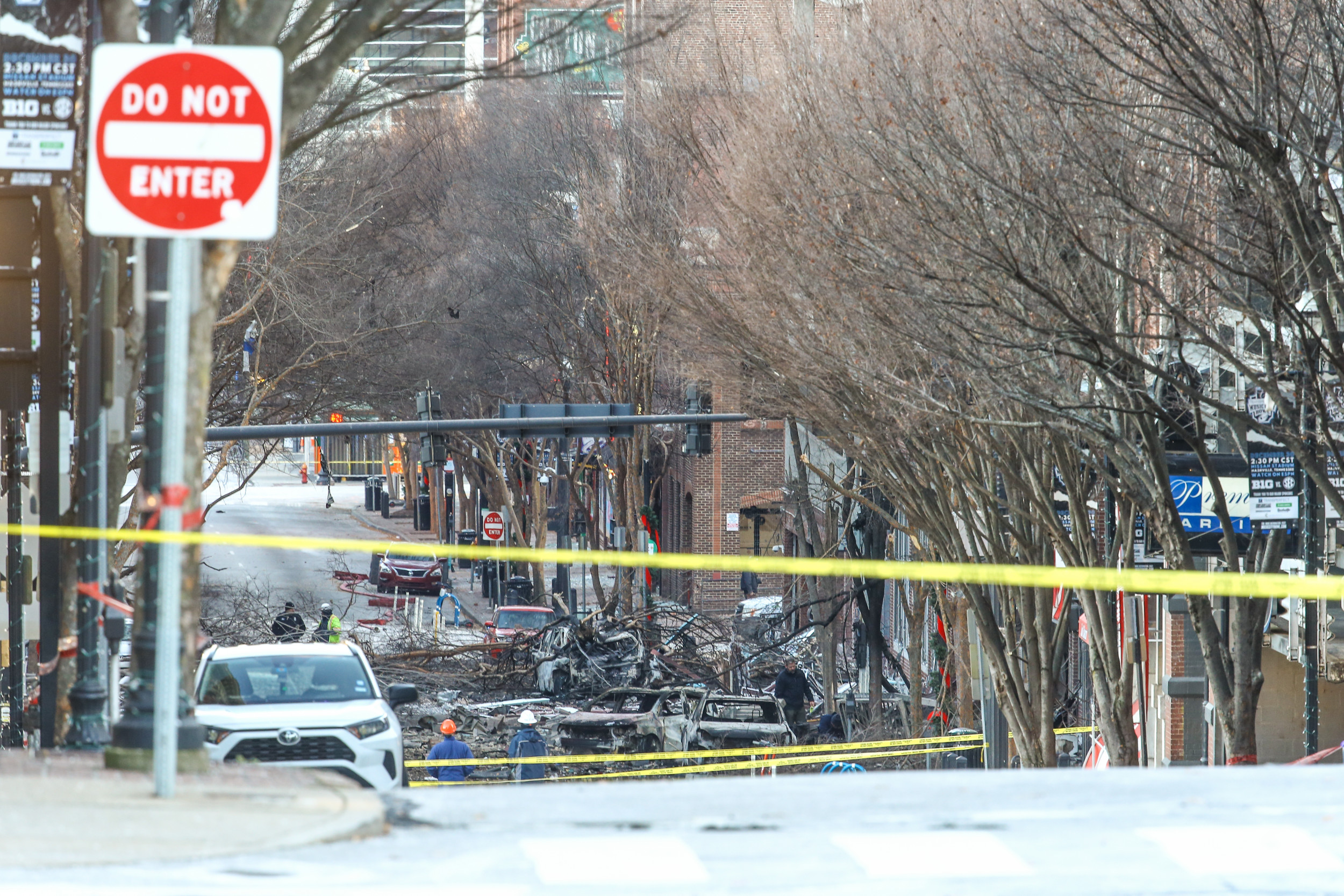 The RV was parked in front of 166 2nd Avenue, right outside an AT&T telephone exchange, also serving as a switching and transmission center. An AT&T spokesman said the company's network hub was damaged and cellphone and Internet services in the Nashville area, middle Tennessee and Kentucky were affected, reaching as far south as Alabama. 911 emergency services were disrupted in numerous cities and towns.
"Given the damage to our facility, it will take time to restore service," AT&T posted on its website. "We have already rerouted significant traffic from this facility and are bringing in other equipment, including numerous portable cell sites to the area."
Nashville Mayor John Cooper signed an executive order declaring a state of civil emergency and enacting a 4:30 p.m. curfew within the downtown area.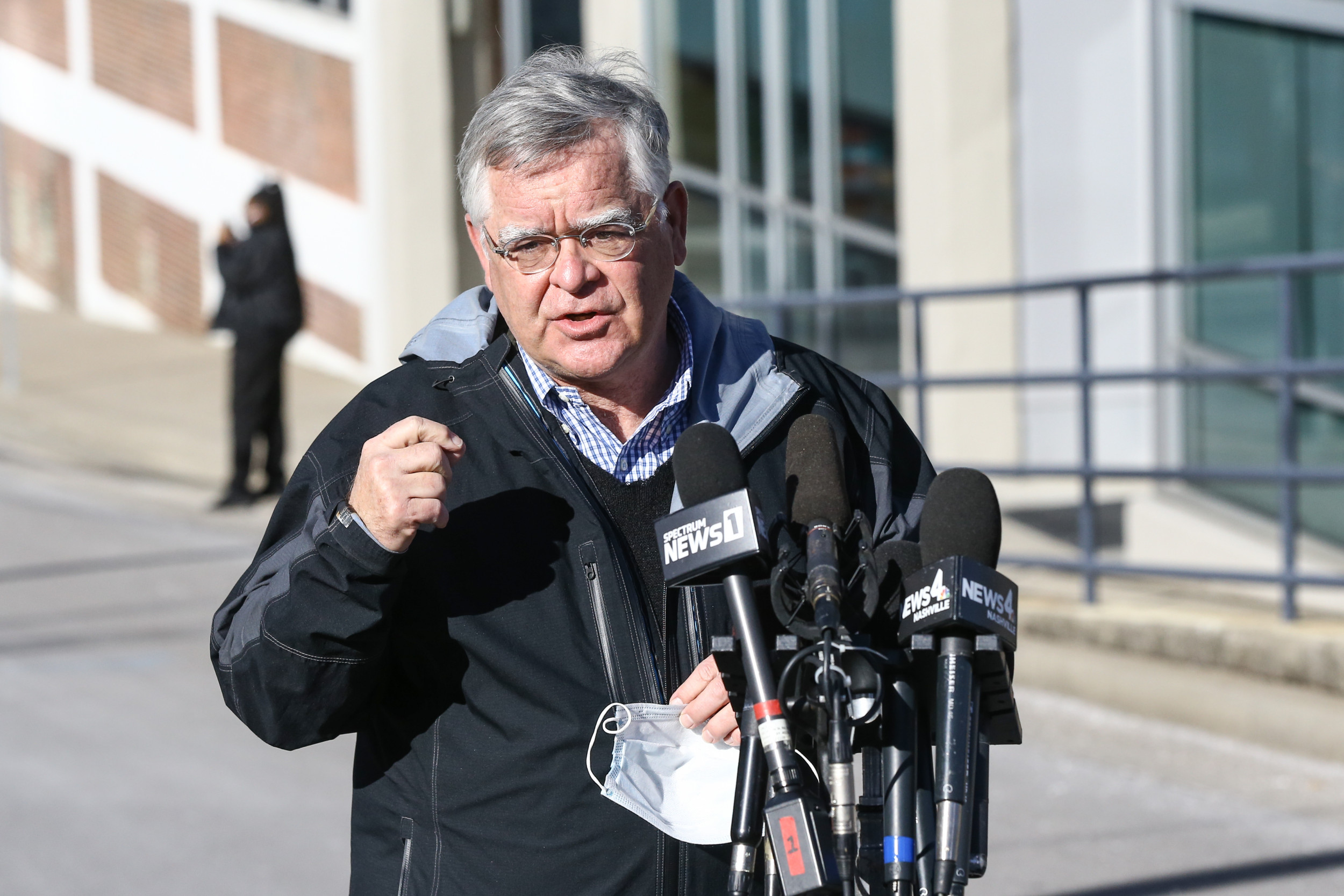 K-9 teams searched around the area for bombs. Radiation monitors were brought in. Public transportation was suspended. Due to telecommunications outages, the FAA temporarily halted flights in and out of Nashville.
"Intentional bombing" said local NewsChannel 5.
"Some investigators are asking if there is a relationship between the Nashville bombing and the broader right-wing insurgent cause," terrorism analyst Laurie Mylroie wrote.
Former deputy FBI director Andrew McCabe told CNN that an explosion of this size would be investigated as a possible act of terrorism. He speculated that police might have been the target of the explosion because of the broadcast. A Nashville police hazardous devices unit was on the way to the site before the RV exploded.
Bill Ryan, a retired detective and former member of the New York Police Department arson and explosions task force, told Fox News that the Nashville blast could be a "trial run" for a larger attack or "a standalone explosion."
The many threats to the telecommunications infrastructure, particularly 5G wireless technology, was the main hypothesis of FBI and homeland security analysts, given the conspiracy theories that had been voice connecting 5G to COVID.
"The anti-5G movement is strong, and its meld with anti-vaxxers and MAGA supporters is sure to cause many headaches in the months and years ahead," a homeland security analyst told Newsweek at the time.
Responding to the explosion, the U.S. Park Police in Washington DC wrote in an internal briefing: "While the exact motive behind the bombing remains unknown, there have been some social media postings concerning conspiracy theories stating that election data…


Read More:Christmas Day Bombing Raised Fears of Donald Trump Conspiracists as Terrorists